Pressure Testing
Our Liquid and Powder test stations allow us to safely inspect and test all size Water, Foam, WetChem, ABE and BE fire extinguishers up to 6000kPa.
Hydro-Tech use a "dry" pressure test system for all cylinders to eliminate the need to use substantial quantities of water, and the accompanying requirement to dry all powder cylinders via the use of energy intensive drying systems.
Hydro-Tech is committed to reducing our carbon footprint wherever possible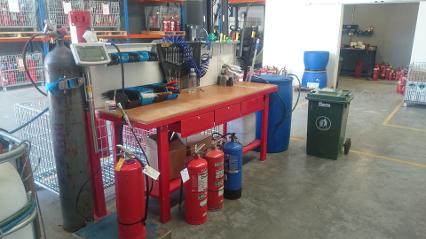 What does a Pressure Test Include
Pressure testing of extinguishers is performed using a mixture of compressed air and nitrogen.
General Inspection
When Liquid or Powder extinguishers are initially received their general condition is assessed for any defects such as corrosion and physical damage.
Depressurize and decant
Extinguishers are depressurised and the contents decanted. We use specialised equipment to reclaim all powder chemicals, while liquids are stored for subsequent disposal.
Remove Heads
The heads are removed, inspected and cleaned
Internal inspections
An internal inspection is carried out to confirm that there is no evidence of damage or corrosion within the extinguisher.
Pressure Test
Cylinders are then placed inside a secure enclosure or cage, before being pressurised to the required test pressure, The pressure is held for 1 minute and a check performed that no pressure has been released, and that the cylinders have not deformed.
Recharging
Extinguishers are now ready to be depressurised and recharged.